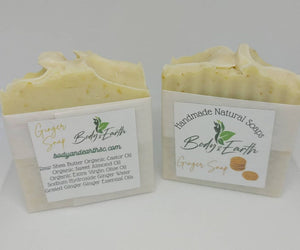 Ginger Snap is a beautifully, handcrafted artisan soap.
Infused with Ginger water, this soap bar has great anti-inflammatory benefits which aide in soothing irritated skin, and helps to improve the appearance of skin as it's healing. 
Made with organic, all-natural ingredients such as Unrefined Raw Shea Butter, Natural oils to help moisturize all skin types, and is wonderfully scented with Ginger essential oil.