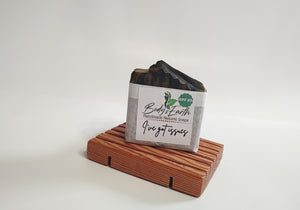 I've got issues is a beautifully, handcrafted artisan soap.
Infused with Aloe Vera juice, this soap bar also contains Charcoal & Turmeric. Both ingredients aide in removing toxins from the skin while fighting against acne. 
Made with organic, all-natural ingredients such as Unrefined Raw Shea Butter, Natural oils to help moisturize all skin types, and is wonderfully scented with Frankincense and Tea Tree essential oils.