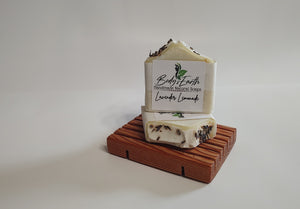 Lavender Lemonade is a beautifully, handcrafted artisan soap. 
Decorated with dried Lavender buds, this soap is refreshing as it gives off an amazingly calming fragrance while you bathe. 
Made with organic, all-natural ingredients such as Unrefined Raw Shea Butter, Natural oils to help moisturize all skin types, and is wonderfully scented with the perfect blend of Lavender & Lemon essential oils.